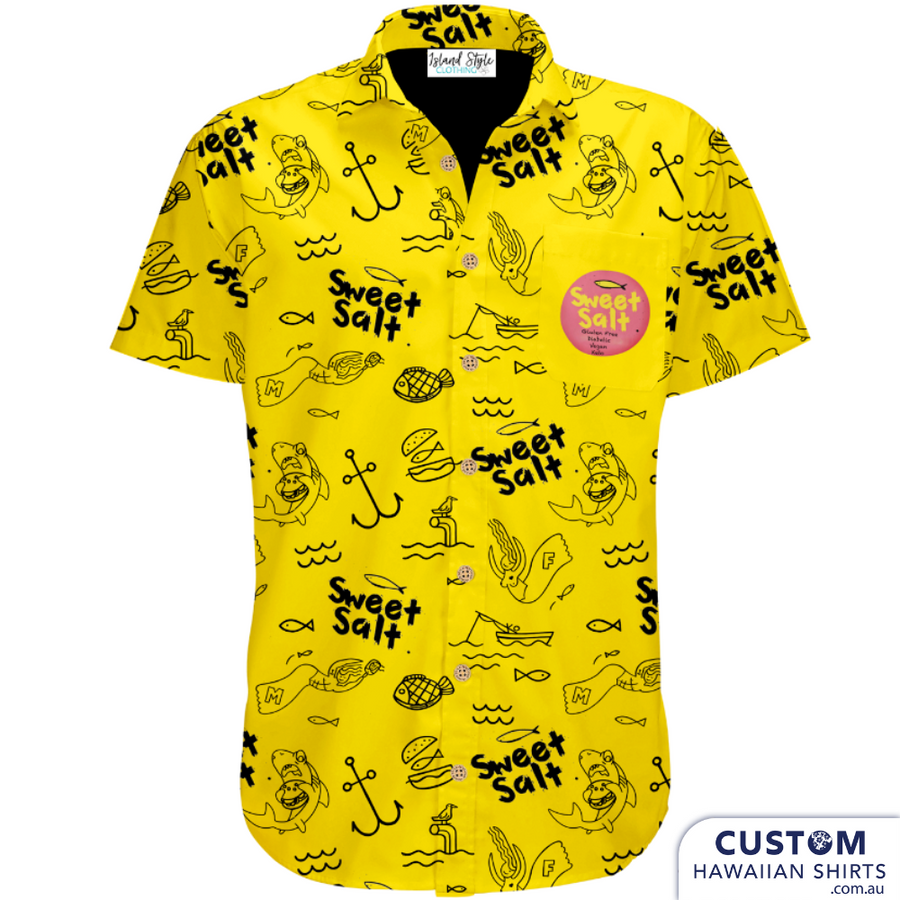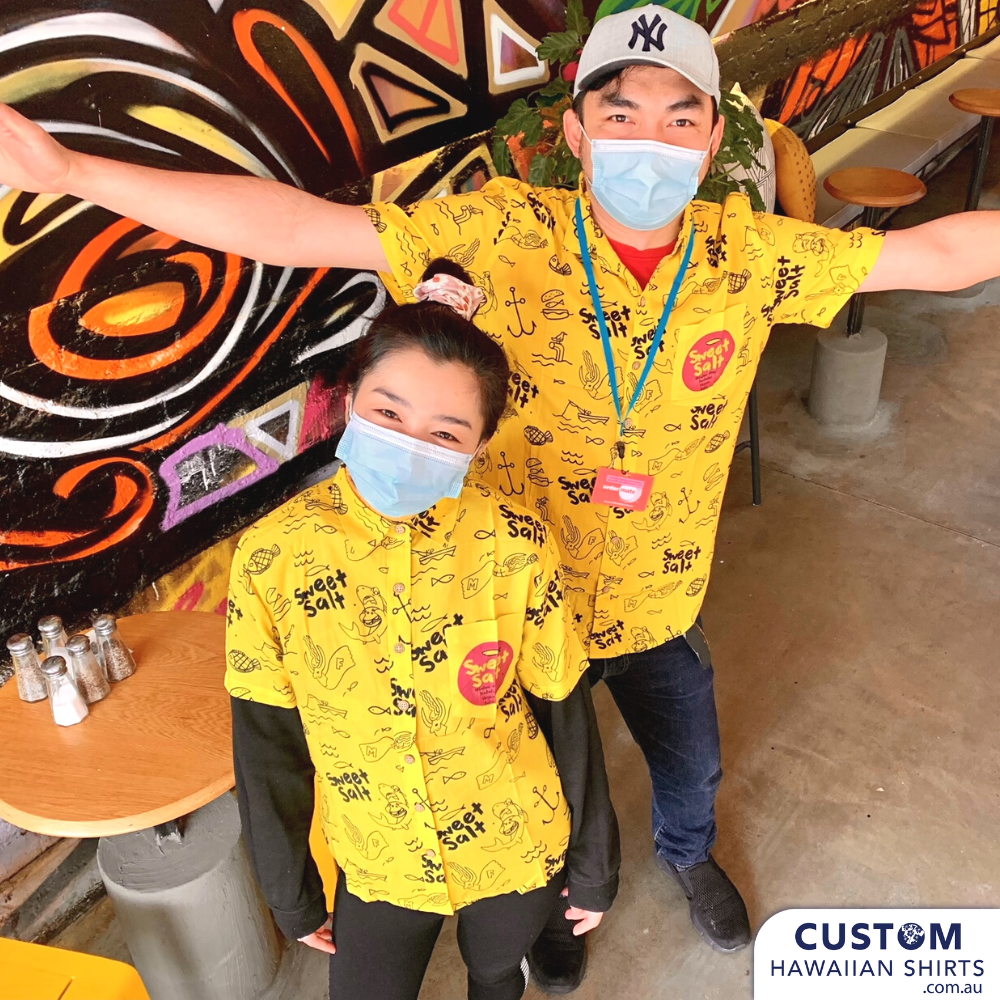 Sweet Salt Cafe - Personalised Uniforms & Bandanas
We're not fishing for compliments, but in the customized clothing game, ISC is worth its salt. And the Sweet Salty crew know their food like they know their fashion..smogasboard.
We recommend dropping anchor here if you've got a biting hunger for a barramundi burger. They know their food like we know custom shirts. 
A cool custom design for Sweet Salt Cafe in Melbourne. Shirts in a graphic print with ocean theme. Staff uniforms and bandanas.

Custom Hawaiian Shirts
100% Soft Rayon

Embossed coconut buttons
Do you need any custom uniforms for your bar or hotel? Enquire now.
OUR SERVICE
Custom designed Hawaiian shirts, shorts & more unique, bespoke

- Designed by Australian family business

- Add your logo, graphics and choose your colours

- Price varies depending on volume - see here for pricing

- Extras: Shorts, Bucket Hats, Bandanas, Women's and Children's cuts available

- Perfect fully customised apparel for your corporate, sports, group or family events and
fundraisers.

- For a FREE QUOTE make an enquiry form
ABOUT OUR CUSTOM CLOTHING
- Material Options: Cotton, Rayon, Stretch & More
- Coconut embossed buttons
- Short sleeve (we also make long sleeves)
Machine wash in cold water with similar colours / no bleach / and low heat iron onlv
PRODUCTION TIMELINE
- Production time: Approx 6-8 weeks from the date of final artwork approval and deposit
paid (plus shipping 1-2 weeks)
- Shipping Time: (calculated from the date that it is shipped out, not the date the order is
placed): 2 weeks
- Tracking Number: When available, we will send you the tracking number with the confirmation email so that you can track the package online.
Add some 'Aloha' to your advertising arsenal. If image is everything; invent the image you want. Our design team has the solution for you
Add some 'Aloha' to your advertising arsenal. If image is everything; invent the image you want. Our design team has the solution for you
Add some 'Aloha' to your advertising arsenal. If image is everything; invent the image you want. Our design team has the solution for you
Add some 'Aloha' to your advertising arsenal. If image is everything; invent the image you want. Our design team has the solution for you
Add some 'Aloha' to your advertising arsenal. If image is everything; invent the image you want. Our design team has the solution for you
Add some 'Aloha' to your advertising arsenal. If image is everything; invent the image you want. Our design team has the solution for you